HEY
GUESS WHAT
THE MOUSE STOPPED WORKING AGAIN DX
I HAVE TO BUY A NEW ONE
But I will try to make a proper post today lol
Okay, I installed Flash so I can now play AJ on the computer but I'm not allowed to download Screeny so I have to find pictures online.
Whatever tho.
Anyways, the RIM is the Rare Trick-or-treat bucket!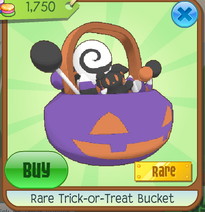 It's pretty expensive, but it's for all jammers!
To be honest, I'm not a fan
I don't like halloween
, but I will buy some so I can trade them for better stuff in the future.
I have to go now, but I'm planning to host a game/giveaway soon. Stay tuned!